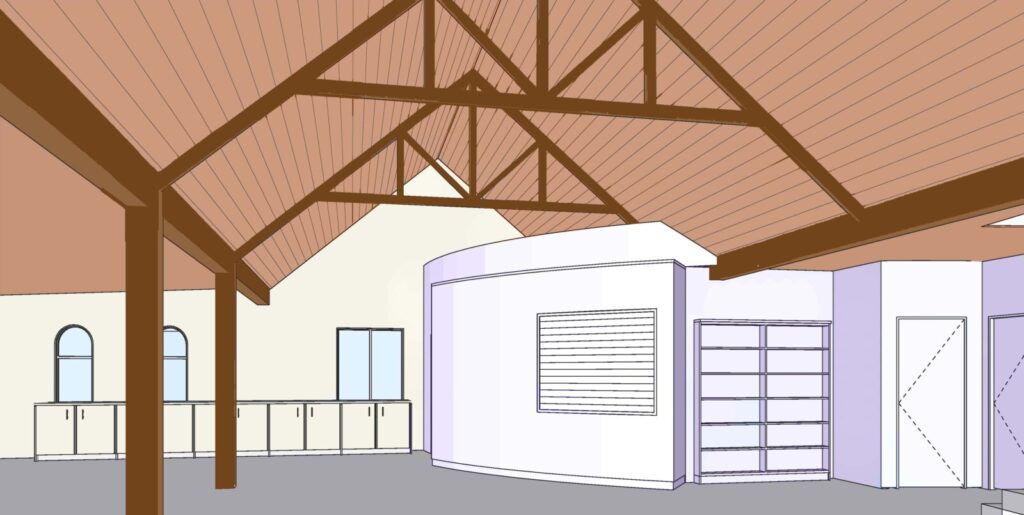 Gathering Area Issues
The existing Gathering Area kitchen is no longer fit for purpose for the increased/changed activities that now occur in the Gathering Area compared with when the kitchen was first installed. The new emphasis on Health and Safety (H&S) places the onus on us to address areas of concern.
The size of the kitchen is too small even for our weekly Sunday after-church refreshments.
The half-size fridge is inadequate for our needs.
The lack of a stove in this space means that all heating needs to be done in the social lounge and then carried down the stairs. This carrying of hot food occurs at funerals, Friday night social events, Youth group sessions and Sunday special morning tea events. We are fortunate that we haven't had a fall as people try to manage the hazard of the stairs. (H&S)
Poor hygiene for hand washing. Regulations have now changed, and washing hands in a kitchen sink before preparing food is no longer acceptable. A separate basin must be provided. (H&S)
Lack of sterilizer. The dishwasher takes at least 40 minutes if not longer to clean items. For large groups, people have been known to take the wine glasses home to wash to then bring back, or when the dishwasher is full take a load up to the hall kitchen sterilizer.
Inadequate bench space. A catering company was seen to have put platters on the kitchen floor laden with food because of a lack of space!
Inadequate storage. Many items are stored in the hall kitchen, such as plates, and then carried back and forth when they are required in the Gathering Area.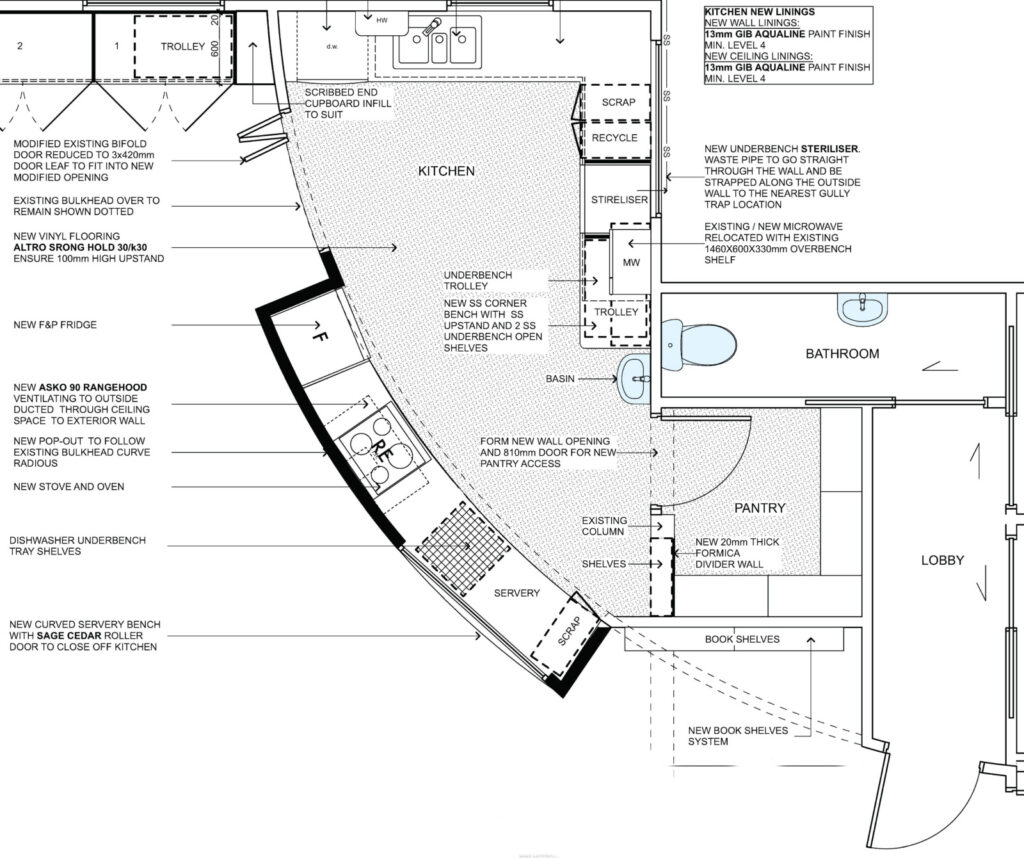 The Kitchen Refurbishment Plan
Addressing the points raised above, plans include:
Full-size fridge.
Improved bench space for preparation.
Stove for heating items meaning that the stair trip hazard when carrying hot food is removed, storage is increased.
A servery for the distribution of tea and coffee away from the existing trolleys will create more space in the Gathering area during functions.
The increased size of the kitchen will allow more people to enter the space without it being a source of frustration for those 'on duty' not being able to continue with their tasks. A stove in this area will also mean that we are not dictated by the Social Lounge bookings as to whether an event can proceed in the Gathering Area.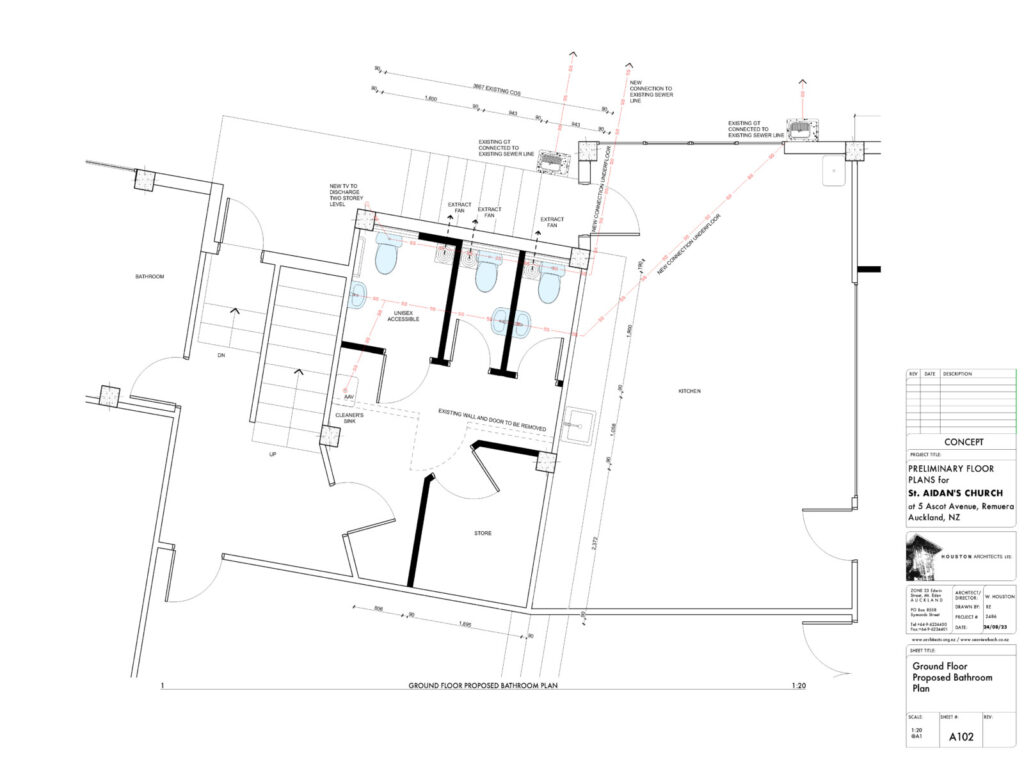 The Hall Toilet Issues
The Hall toilets have long been an area of concern for parishioners stretching back several vicars. The men's toilets have a constant pungent odour which no level of cleaning is able to remove. The toilets are outdated, and the unused space which once might have been useful for people changing after badminton games is now only used for unsecured storage. There is no disability facility at this level in our complex for anyone who might have a walker or need a rail to support them as they use the toilet. Our toilets are no longer fit for purpose or hospitable for people using our facilities.
What now?
The time schedule for some of the key events:
Fundraising launched on 27th August 2023
Building to commence on toilet project by 1 December 2023
Building to commence on the Gathering Area kitchen project by 20 February 2024
We have the plans, and we are gaining the necessary consents. Our fundraising target is $150,000, and we are already underway!
Pledge Form
The pledge form can be found here. Contact Anne in the office if you want the form to be sent via email or if you don't know your giving number. Please note this is a different bank account number than your usual giving.
Please prayerfully consider how you might be able to support this project financially. Feel free to chat with one of the fundraising team members: Keith Simpson, Nigel Brown, John Button, Garth Williams, Stuart Gray, and Tony Clephane.
Please note: A pledge form is critical to keep track of information. If money appears in the account even with the name and giving number, Anne in the office would still be unclear on the details of whether you want to be named, if it's a one-off donation or a regular amount that you intend gifting. So please for clarity, remember to fill out a pledge form to assist us with tax receipting and accuracy of our records. Donations qualify as tax donations (hence us ensuring you aren't waiting until the end of the financial year for a receipt).
Biblical mandate
The importance of hospitality is illustrated throughout Scripture. We are called to do the same because as we serve others, we serve Christ. The church building is our parish home and whether it's a funeral gathering, or after our regular Sunday worship, hospitality is a key part of these gatherings. We want, and need, facilities that are safe to use, and are welcoming for those who use them.
"Keep on loving each other as brothers and sisters. Don't forget to show hospitality to strangers, for some who have done this have entertained angels without realizing it!" – Hebrews 13:1-2
Project Outline
Taken from our St Aidan's Day 9:30am Sunday 27th August service.
You can choose if you wish to have your name on the board in the Gathering Area or to be anonymous. You make the choice you are most comfortable with.
Please know that any level of giving is wonderfully received – no amount would be considered too small. We do appreciate that with the rising cost of living not everyone will be able to give financially to this project and that's absolutely fine.
Thank you to the teams of people who are working both on the fundraising and those who are working with the physical project, speaking with architects and making critical decisions. We are very grateful for your time and skills to keep this project moving.
What if we fundraise extra funds?
What happens if we raise beyond our target of $150,000? A very good question.
Rest assured the donated money is in a separate building account, so any excess won't get spent on expenses such as buying photocopier paper or paying the power account. Firstly, the projects will be paid for. Sometimes there are unforeseen cost overruns so any surplus will ensure all the projects are completed.
After that, however, we will look to one of two other projects that the parish has long wanted to update. One is the Ladies' hall toilets and the other is the hall kitchen, which needs repairs to broken cupboard doors and the vinyl floor which is held down in places with masking tape. It is exciting to think we may be able to do even more than we had dreamed of. We will keep you posted.