News & Announcements
To keep up to date with what's happening, take a look at our St Aidan's Calendar.
Also check out our weekly Newsletter here and our latest Parish Magazine here.
Notices:
Lenten Study
This year are looking at the topic of Sharing Faith. If you are able to give a brief testimony of how you express faith in your life, please contact one of the staff.
Pastoral Care/Home Communion
If you are unwell or know of someone who is unwell and would like a visit or Christmas Communion at home please contact the office so we can arrange for this to happen.
Coming Up: 
Women's Evening Fellowship, Tuesday 20th February
The first gathering of the year is on Tues 20 Feb at 7:30pm. Joanna Pidgeon, a St Aidan's Parishioner, is our guest speaker and she will be talking on the topic, "My life as a Christian Lawyer".
Men's Breakfast, Thursday 22nd February
At 7:30am our parish men will meet for breakfast at Brown's Café. Contact Glen for further details.
Evening Service, Sunday 25th February
Come along and be part of the G@5 service for prayers, some contemporary music, and community time. Bring a plate to share.
Parish Social Hour, Friday 2nd March
An invitation to all parishioners to get together for our first social hour of the year, from 5pm in the Gathering Area. Please bring a plate to share, if you can.
World Day of Prayer, Friday 2nd February
St Aidan's is hosting the World Day of Prayer at 10am. This year's focus is on Suriname, a South American Nation. All are welcome.
AAW, Tuesday 6th March
For our first meeting of the year, we are visiting Christ Church in Ellerslie, with the service commencing at 1.30pm with a short meeting thereafter. All Parishioners are invited.
Pamela Stone will be giving an illustrated talk about the historic stained glass windows which were gifted in 1884 depicting a part of the gospel. Christ Church are campaigning to fundraise for work replacing and preserving these windows so our parish is invited to help financially with donations over $5 (bring a
cheque or cash in an envelope together with a stamped self addressed envelope for return of a receipt).
Recent Events:

St Aidan's Famous Annual Garage Sale, 9 September 2017
Windy and wet – not the greatest forecast for this year's Annual Garage Sale & Spring Fair event but not even this could dampen the spirits of the most ardent bargain hunter. And bargains galore there were – from the practical to the absurd.  The Church Hall was chock full of merchandise of all sorts of things. The ladies on the Bake Sale & Jams took centre stage with the most amazing array of delicious home-made treats.
The magnificent wooden pulpit, (no longer in use) was able to be moved into position to stand pride of place amongst the throngs of people, to be used by our MC to make announcements. Poignantly, it's presence was significant. Maureen Bent, whose family donated the pulpit to the Church, sadly had passed away earlier that week.  Both the Bent family and the Bull family (who had carved the pulpit) have been long time parishioners of St Aidan's and it was nice to be able to acknowledge them in this way.
Our grateful thanks to our army of volunteers who baked, preserved, cooked, made, sold, drove, picked-up, stood, dusted, polished, cleaned, raffled, erected, assembled, BBQ-ed, sliced, diced, shopped, Instagram-ed, facebook-liked, twittered, hammered… and everything else you did to make this wonderful event possible.
Our biggest thanks must go to our supportive community who were generous in their donations of goods and to the wonderful people who come to shop – many, who keep coming year after year.
Finally, thank you to Paper Plus Remuera, Gracious Living and Remuera Pharmacy who kindly donated some beautiful items for our raffles. Thank you all for making this our most successful Garage Sale to date.
Let's do it all again next year! – St Aidan's Garage Sale Organising Committee.
St Aidan's Day, 27th August 2017
On Sunday, 27th August we celebrated the ministry of St. Aidan – our patron Saint. Traditionally this is a day when parishioners from all services join together for some fun and fellowship over a shared lunch. We met together after the 9:30am service and shared some delicious food, played a few games and donated goods to the City Mission! 🎁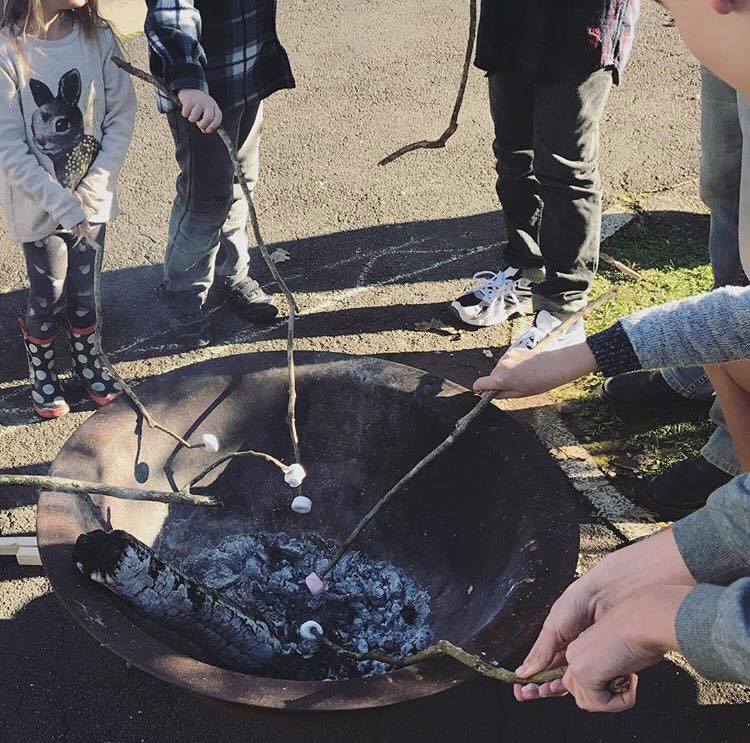 Pentecost, 4th June 2017
Popcorn, marshmellows, fire and a whole lot of kids and youth came together to discuss how popcorn transforms through heat; and so we also transform and change with the power of the Holy Spirt.
Lenten Study
Our Lenten study series this year was centred around the book, "The Radical Disciple" by John Stott which studies eight characteristics of Christian discipleship that are commonly neglected yet deserve to be taken seriously.  You can purchase the book online or from local Christian bookstores.
You can access the study sessions below:
Week 1 – Discipleship
Week 2 – Simplicity
Lent 3 – Stewardship
Lent 4 – Maturity
Men's Fishing Trip, Feb 2017
The men had a fantastic day out on the water, once again on 'Marnine' a classic 50 ft wooden boat. The haul might not have been large but the men had a fantastic time on the water! To read all about it, and to keep your eyes open for future 'Men's Ministry' events – click here.