Notices:
New Associate Priest, Reverend Kerry Davis
We are delighted to announce the appointment of Reverend Kerry Davis to our Associate priest position. Kerry and his wife Vaoa will join the parish in late March. For the past four years, Kerry has served as the Missioner/Vicar at the Church of the Holy Sepulchre. Kerry will bring experience and a wide range of gifts to St Aidan's complementing and building upon the existing ministry. Please pray for their family as they conclude their current role and also for the Church community of Holy Sepulchre as they prepare to farewell Kerry and look to their next chapter.
Upcoming Events:
Church in the Traffic Light System
New Zealand has now moved to the traffic light system. So we are now back in the church building. My Vaccine Passes will be currently required for services, events, and other gatherings held in our church and in our buildings. There may be opportunities for exemptions, and we will provide updates regarding this.
To find out more information about attending a service here at St Aidan's, head to our COVID-19 updates page. To find out more information from the Auckland Diocese, head to their info page.
Summer Services
There will be one Sunday service held at 9am each week from 26th December 2021 until 30th January 2022. This is a great time for parishioners that usually attend different services to get to know each other and gives our worship team a break!
Blessing of the Backpacks, Sunday 13th February 2022
Young people of the church to bring along their backpacks to our 9:30am service, to get blessed as the new school year starts.
Parish Family Picnic, Sunday 6th March 2022
Join us in Cornwall Park after our 9:30am service.
New to the parish?

Check out our 'About Us' page here, or download a copy of our Welcome to St Aidan's, Remuera booklet. If you have any questions about joining St Aidan's or would like to be added to our mailing list, please contact us via (09) 929 4670 or office@staidans.co.nz
Recent Events & News:
Young Adults Beach Dinner, 10 January 2022
Our Young Adults group kicked the year off with takeaways at the beach. If you would like to join our Young Adults group, who usually meet for homegroup every two weeks, please contact Isobell.
Christmas at St Aidan's, Remuera
Watch our two recorded services below:
Midnight Service, Christmas Eve
Morning Service, Christmas Day
Carols in the Community, Thursday 16th December 2021
We had a great time singing carols outside of church (and then at the Meadowbank Retirement Village) this year! There were smiles and waves and lots of tooting horns – definitely some great Christmas spirit.

AGM, Sunday 14th November
We held this year's AGM via Zoom. Click here to read the AGM reports, and contact the office for the AGM minutes.
Karakia for our Climate Zoom, 31st October 2021
If you missed it, or want to follow along with the Karakia for our Climate journey, then follow them on Facebook here. They shared these prayer cards with us, which you can view here (made for printing).
August Kids' Church Newsletter
Click here to read the newsletter from Izzi.
St Aidan's Day Celebrations, 2021
We had to cancel our annual get-together and have celebrations online this year! Thanks to past Vicars for their contributions.
A Pastoral letter
To the people of the Diocese of Auckland from Bishop Ross Bay letter – 19 September 2021
Two positions filled
New Youth Pastor
With Conor leaving St Aidan's for full-time work at Lifewise, we have a new addition to the team, Nic Mercer. We're excited to warmly welcome Nic, and look forward to having him on our team.
Young Adults Coordinator
Isobell, our Website & Social Media Content Manager, has also taken up the role of Young Adults Coordinator. Please get in contact with her if you would like to join the group!
Parish Annual Quiz, Friday 6th August
Teams up to eight (8) people joined together to raise funds for the City Mission HomeGround Project and have some fun!

Louise's Induction, 20 June 2021
Reverend Louise Anderson accepted the Bishop's offer to be the next Vicar of St Aidan's. Bishop Ross inducted Louise on Sunday 20th June at 3:30pm. It was a great celebration to welcome the next chapter in the life of St Aidan's!
View this post on Instagram
Two new hires
Kids' Church
We're excited to warmly welcome Izzi, our new Children's Ministry Coordinator! We look forward to having her on our team. Read her letter to families, here.
Mainly Music
We also have the pleasure of welcoming Vicki White as our new Mainly Music Coordinator. Vicki has been involved with Mainly Music for a couple of years and also helping out for some time, so it's great to be able to make her an official member of the team.
Movie Night, Friday 14th May
We had drinks and nibbles in the Gathering Area from 5:30pm, followed by a movie at 6:30pm. The evening was shared by a variety of generations!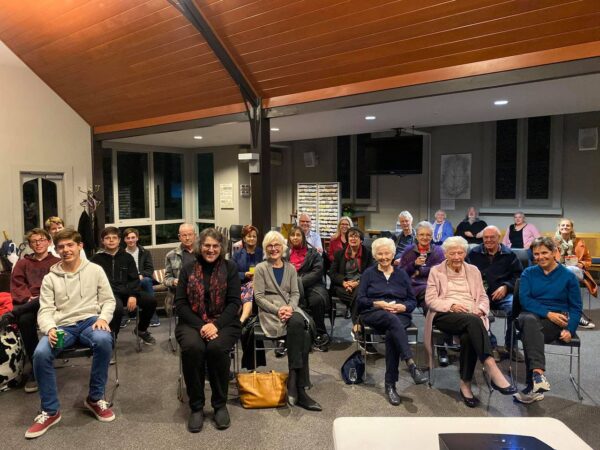 ANZAC Day 2021
Laying of wreaths on ANZAC Day, after our 9:30am service.

Parish Family Picnic, Sunday 18th April
Easter at St Aidan's, Remuera
The Apostle Magazine, Easter 2021:
The latest The Apostle magazine is out! Find it on Flipbook here, or as a PDF on our website here. If you have material you would like to see in our next edition of the magazine, please contact Anne via office@staidans.co.nz
Cleaning Bee, Saturday 27th March
It was fantastic to see over 50 people come and help us 'Spring Clean' the church, as we were unable to clean it in 2020. Thank you to all of those who came along to help clean, and to help make palm crosses for Palm Sunday!
Mission Shop open under Alert Level 1
Now we are back to Alert Level 1, our Mission Shop has reopened. Come along Thursday-Saturday between 10am-2pm to say hello to our volunteers and find a bargain!