News & Announcements
To keep up to date with what's happening, take a look at our St Aidan's Calendar
Notices:
New Vicar
We are delighted to hear that after prayerful consideration by Bishops Ross and Jim, our parish and Diocesan Nominators, The Rev Glen Ashworth has been appointed as the new Vicar of St Aidan's. Welcome Glen, Sarah, Lily, Finn and Daisy!
Coming Up: 
Men's Breakfast, Thursday 26th October
At 7:30am, our parish men will meet for breakfast at Brown's Café. Contact Glen for further details.
Parish Social Hour, Friday 3 November
Join us from 5pm. A special invitation to all volunteers and Newcomers. Come and celebrate a successful year – Thanks everyone! (Please bring a contribution to eat or drink if you can)
Glen's induction, Tuesday 7th November
Join us from 7:30pm. Refreshments will be served in the GA following the service.
Blue Christmas, Sunday 26th November
This years service will be held at 5pm.
Recent Events:

St Aidan's Famous Annual Garage Sale, 9 September 2017
Windy and wet – not the greatest forecast for this year's Annual Garage Sale & Spring Fair event but not even this could dampen the spirits of the most ardent bargain hunter. And bargains galore there were – from the practical to the absurd.  The Church Hall was chock full of merchandise of all sorts of things. The ladies on the Bake Sale & Jams took centre stage with the most amazing array of delicious home-made treats.
The magnificent wooden pulpit, (no longer in use) was able to be moved into position to stand pride of place amongst the throngs of people, to be used by our MC to make announcements. Poignantly, it's presence was significant. Maureen Bent, whose family donated the pulpit to the Church, sadly had passed away earlier that week.  Both the Bent family and the Bull family (who had carved the pulpit) have been long time parishioners of St Aidan's and it was nice to be able to acknowledge them in this way.
Our grateful thanks to our army of volunteers who baked, preserved, cooked, made, sold, drove, picked-up, stood, dusted, polished, cleaned, raffled, erected, assembled, BBQ-ed, sliced, diced, shopped, Instagram-ed, facebook-liked, twittered, hammered… and everything else you did to make this wonderful event possible.
Our biggest thanks must go to our supportive community who were generous in their donations of goods and to the wonderful people who come to shop – many, who keep coming year after year.
Finally, thank you to Paper Plus Remuera, Gracious Living and Remuera Pharmacy who kindly donated some beautiful items for our raffles. Thank you all for making this our most successful Garage Sale to date.
Let's do it all again next year! – St Aidan's Garage Sale Organising Committee.
St Aidan's Day, 27th August 2017
On Sunday, 27th August we celebrated the ministry of St. Aidan – our patron Saint. Traditionally this is a day when parishioners from all services join together for some fun and fellowship over a shared lunch. We met together after the 9:30am service and shared some delicious food, played a few games and donated goods to the City Mission! 🎁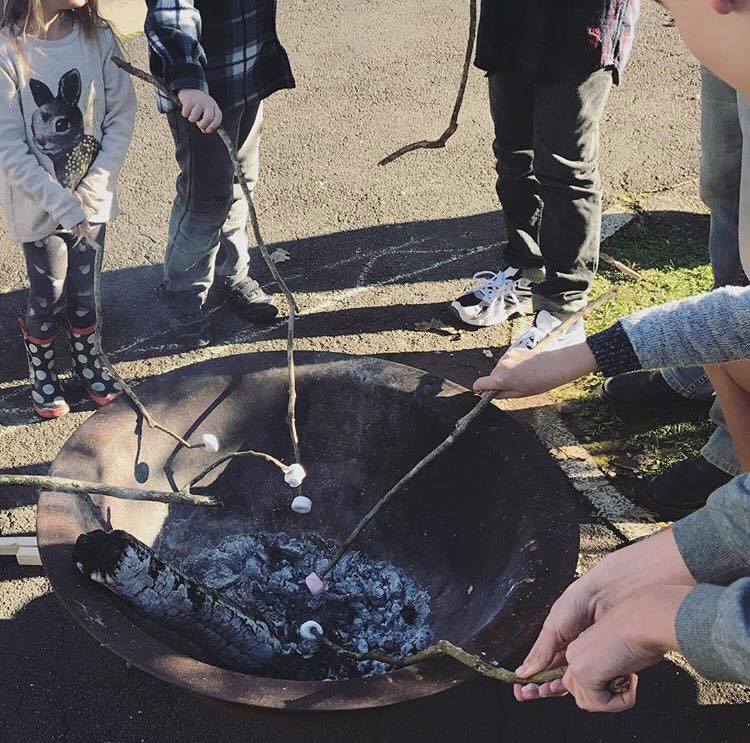 Pentecost, 4th June 2017
Popcorn, marshmellows, fire and a whole lot of kids and youth came together to discuss how popcorn transforms through heat; and so we also transform and change with the power of the Holy Spirt.
Lenten Study
Our Lenten study series this year was centred around the book, "The Radical Disciple" by John Stott which studies eight characteristics of Christian discipleship that are commonly neglected yet deserve to be taken seriously.  You can purchase the book online or from local Christian bookstores.
You can access the study sessions below:
Week 1 – Discipleship
Week 2 – Simplicity
Lent 3 – Stewardship
Lent 4 – Maturity
Men's Fishing Trip, Feb 2017
The men had a fantastic day out on the water, once again on 'Marnine' a classic 50 ft wooden boat. The haul might not have been large but the men had a fantastic time on the water! To read all about it, and to keep your eyes open for future 'Men's Ministry' events – click here.
St Aidan's Christmas Services 2016

The Christmas services began for us with a Kids service at 4pm, Christmas Eve. We all piled in a makeshift tent to hear the account of Jesus' birth, to sing carols (joining in with shakers) and to finish with a bit of a dance.
We then had communion services at 7pm & 11pm which were well attended. Christmas Day saw the Priest in Charge, Glen Ashworth, attempt to cut a hole in an A4 piece of paper big enough to fit through – sorry no video but click here to hear the message.
Christmas Angels!
On 21 December, the second team of St Aidan's parishioners spent the day at Auckland City Mission, packing food parcels, restacking shelves and sorting other donations in the lead up to Christmas.  The team reported that they had a busy but fun day with the team at the City Mission!
Baptisms on the Beach and Worship by the Water, 18th December 2016

Kids and Youth left shortly after the start of St Aidan's 9.30 service to continue worship on St Heliers beach.  A number of the congregation then joined them for the baptisms of Cameron and Brandon, as well as Will Richardson. The baptisms were followed by food, fun and games with a BYO picnic/BBQ.  What a wonderful way to spend a Sunday!