News & Announcements
Notices:
To keep up to date with what's happening, take a look at our weekly Newsletter here and our latest Parish Magazine here.
To read our COVID-19 updates, click here.
St Aidan's will continue to Live Stream our 9:30am Sunday service on our Facebook page.
Kids' Church Update
Click here to see what Kids' Church has recently been up to!
Children's Ministry Leader
With our current Children's Ministry Leader moved to the South Island, we are looking for a Children's Ministry Leader to facilitate the children's church programme at St Aidan's, working with families and the wider church team to continue to develop this vital ministry. The start date would be negotiated.
This is a paid, part-time position during the school terms. The role is:
for 5 hrs per week (including prep time) to facilitate Sunday kids' church (1 hour each Sunday service), and covers 3-11 year old age range; or
for 10 hrs per week (including prep time) to do the above and if you wish to also
coordinate our Mainly Music programme (currently 1.5 hours on Wednesday
mornings).
For a full job description, email Louise (our Priest in charge) at louise@staidans.co.nz or call Louise on 0274 484 467 for a chat. Applications close Friday 19th February 2021.
Parish Family Picnic, Sunday 28th February 2021
Head to Cornwall Park after the 9:30am service (approx. 11am) – maps will be available on the day. Bring a blanket or chair(s), hat, drinks, sunscreen, some finger food to share, and sports equipment if you're keen! Everyone welcome to come along, carpooling can be arranged or join the group walking there.
2021 Start Dates (for our regular groups)

Recent Events:
Christmas 2020
At Christmas, we celebrate the birth of Jesus Christ, a person who has had a profound influence on human history. As Christians, we believe that it is God himself who comes near to us in this person. We also believe that in Jesus there is something for everyone – and that was this year's theme, 'There is something for everyone'. Watch our two recorded services below.
Christmas Eve Service

9 Lessons & Carols

Ashworth Farewell, Sunday 20th December 2020
To celebrate the wonderful ministry that Glen has provided at St Aidan's and farewell all the Ashworths we held a shared lunch on Sunday 20th December after the 9.30 service. Whilst it's not their last service in the parish it made sense to do this prior to Christmas and when many people go on holiday.
If you would like to contribute towards a farewell gift, please give your $$ to Anne Godman or Juli Mercer or make an online transfer to 12-3026-0264657-00, including "Glen's Gift" in the reference field.
FAB Sale, Saturday 14th November
Thank you to those who donated goods. Thank you to those who baked or made jams and preserves. Thank you to those who collected donations in the bunker. Thank you to those who helped set up during the last week. Thank you to those who came along and volunteered on the day. Thank you to those who came along and purchased goods on the day. The list could go on – thank you to all involved! Check out the Facebook Event page.

Hike to Huia, Sunday 8th November
A St Aidan's community walk at the Huia Dam – keep an eye out for the next community event!

Youth Sunday, Sunday 18th October 2020
Check out the Live Stream below to hear about the BOLD programmes and the trip they had to Fiji. Thanks to James and Cameron for sharing! Please note the sound goes in and out due to mic issues.
Bake Sale, Saturday 17th October 2020
As part of our FAB Sale Fundraising, we held a Cake Stall outside church on Election Day. Thanks to everyone who helped with making homebaked goods, and to those the purchased an item or two!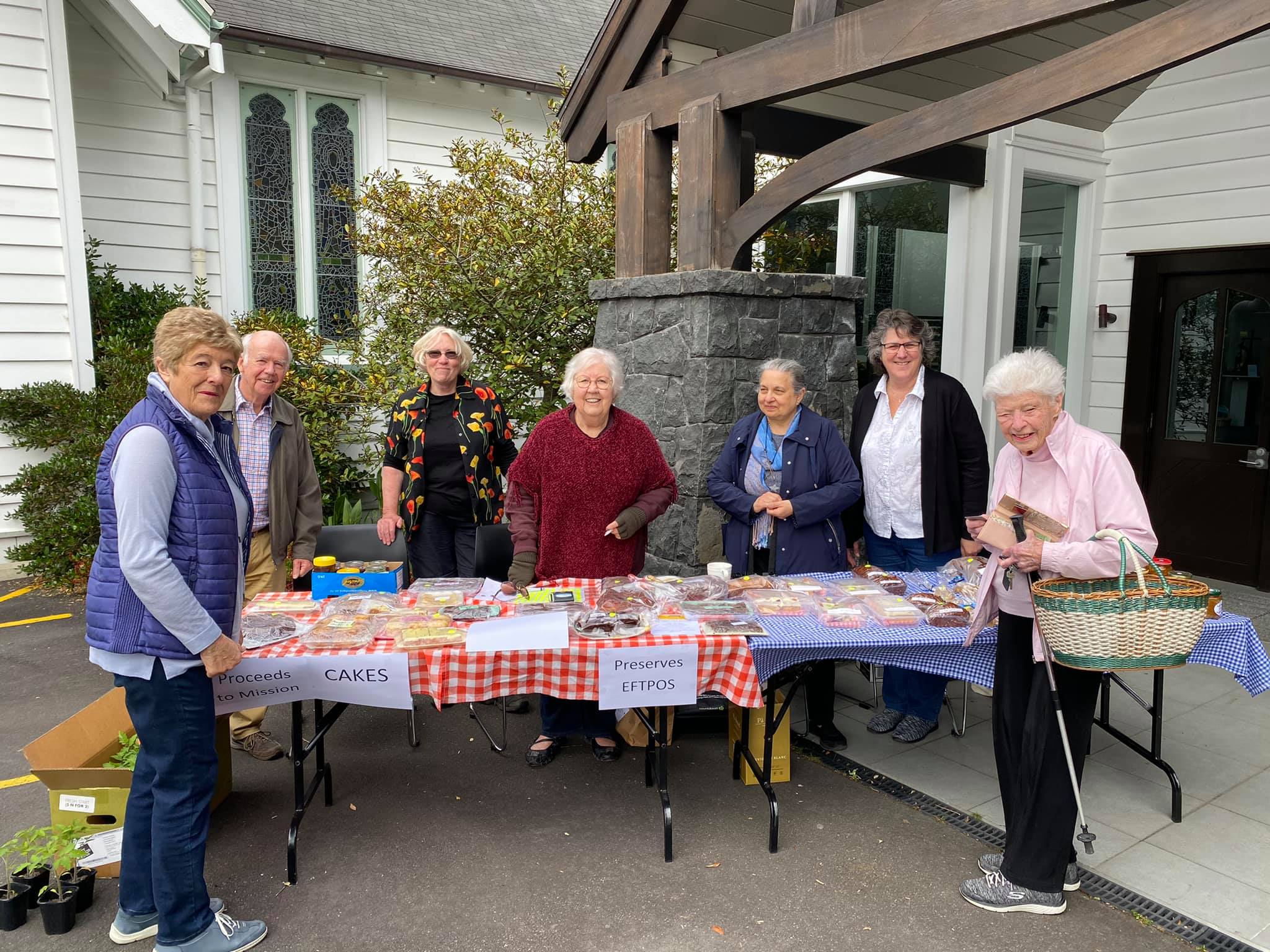 The Apostle Magazine:
The lastest The Apostle magazine is out! Find it on Flipbook here, or as a PDF on our website here. If you have material you would like to see in our Christmas edition of the magazine, please contact Anne via office@staidans.co.nz
St Aidan's Annual Quiz, Friday 7th August 2020
To check out all the photos from the night, click here.
Pins and Needles, Monday 8th June 2020
Our Pins and Needles group started up again yesterday! There was an amazing assortment of items that people made during lockdown, which will be blessed this weekend and then gifted to the organisations we support. All are welcome! The group meets on the second Monday of the month at 10:00am in the Gathering Area 🧶
Good Friday Service 2020:

Easter Resources:
The Grave to Garden Project is an alternative way to connect with God over Easter – click here to check their resource out.

The Resurrection Journey was created through the Anglican Diocese of Auckland to help us focus and reflect on the resurrection of Jesus Christ and what his risen life means for us today – click here to check their website out. 
Palm Sunday 2020
Watch our Palm Sunday service over on our Live Streams page – see some homemade Palm Crosses below, sent in from our parishioners.
Lent Series 2020
God at Work 
Being Christian in the everyday world
Whether we are paid for what we do throughout the week or not, we believe our relationship with God is to be the basis for how we live. So what does scripture have to say about our work? In whatever we do with our time, we all grapple with issues such as conflict, maintaining relationships, ethics, stress and seeking fulfilment – what might it look like to be a disciple of Jesus in those situations?
During lent our sermons reflected on our 'Monday to Saturday' from a biblical perspective. The sermons were accompanied by Q & A group sessions following Sunday worship to flesh that out into our own contexts. If you were unable to attend church during lent, or you would like to listen to our sermons again, click on this link.
---
So here's what I want you to do, God helping you: Take your everyday, ordinary life—your sleeping, eating, going-to-work, and walking-around life—and place it before God as an offering | Romans 12:1
---
Resources: 
Small Group Studies (on Theology of Work website)
Theology of Work YouTube Channel
St Aidan's Church Family Picnic, Sunday 23rd February 2020
After the morning services, we met in Cornwall Park. From 11:30am until about 1:30pm, we ate some delicious food, played cricket, shared stories and generally caught up with one another in our first intergenerational event for 2020.
Find more photos from the picnic here.
Open Door, January 2020
It was great to catch up with people at our Open Door sessions, which were held on Wednesdays from 10am – 11:30am, throughout January 2020. During the first session, we had 21 people pop in! There was plenty of tea, coffee, herbal drinks and food, plus some conversation and some even got around to playing scrabble and mahjong. During our second session, the jigsaw got started, and lots of food got consumed.