News & Announcements
To keep up to date with what's happening, take a look at our St Aidan's Calendar.
Also check out our weekly Newsletter here and our latest Parish Magazine here.
Coming Up:
Evening Service, Sunday 26th August
Please join us for our Evening Service at 5pm on 26 August in the Gathering Area. Bring a plate to share, if you can!
Save the Date – St Aidan's Day celebration!
St Aidan's Day celebration will be on 2nd September (not 26th August). Also, Louise Anderson's first Sunday with us as Priest Associate will be Sunday 2nd Sept with an official start date of Saturday 1st September. Please make sure to save the date in your diary.

Garage Sale & Spring Fair 2018
St Aidan's Garage Sale & Spring Fair will be held on Saturday 15th September 2018. Planning is well underway for our biggest fundraiser of the year. Like to be involved? More helpers needed in many areas: sorting of donations, container duty, pick-up and delivery of goods, security and help on the day. Sign up in the Gathering Area.
Recent Events:

Quiz Night, Friday 10th August
St Aidan's hosted a Quiz Night on Friday 10th August and the proceeds went to the Hearts4Kids Trust, to help this year's mission to Fiji where there is no heart surgical unit of its own and relies on intermittent visiting teams. Click here if you would like to donate!
Women's Fellowship Evening, Tuesday 15th May
It was the Royal Wedding week so we celebrated by looking back on our own weddings. A fun night of memories and a lovely cake to enjoy with a cup of tea. Antoinette played beautiful wedding music and sang Handels "Let the Bright Seraphim". We wished  Prince Harry and Megan every blessing in a long and happy life together!
Fishing Trip, Saturday 7th April
Meeting at the Outboard Boating Club, some of our parishioners had a great day together on the water, on board the beautiful Marnine. Although fishing was a bit sparse they managed to come home with a feed and along with swimming, kayaking and banter it was an enjoyable day!
St Aidan's Famous Annual Garage Sale, 9 September 2017
Windy and wet – not the greatest forecast for this year's Annual Garage Sale & Spring Fair event but not even this could dampen the spirits of the most ardent bargain hunter. And bargains galore there were – from the practical to the absurd.  The Church Hall was chock full of merchandise of all sorts of things. The ladies on the Bake Sale & Jams took centre stage with the most amazing array of delicious home-made treats.
The magnificent wooden pulpit, (no longer in use) was able to be moved into position to stand pride of place amongst the throngs of people, to be used by our MC to make announcements. Poignantly, it's presence was significant. Maureen Bent, whose family donated the pulpit to the Church, sadly had passed away earlier that week.  Both the Bent family and the Bull family (who had carved the pulpit) have been longtime parishioners of St Aidan's and it was nice to be able to acknowledge them in this way.
Our grateful thanks to our army of volunteers who baked, preserved, cooked, made, sold, drove, picked-up, stood, dusted, polished, cleaned, raffled, erected, assembled, BBQ-ed, sliced, diced, shopped, Instagram-ed, facebook-liked, twittered, hammered… and everything else you did to make this wonderful event possible.
Our biggest thanks must go to our supportive community who were generous in their donations of goods and to the wonderful people who come to shop – many, who keep coming year after year.
Finally, thank you to Paper Plus Remuera, Gracious Living and Remuera Pharmacy who kindly donated some beautiful items for our raffles. Thank you all for making this our most successful Garage Sale to date.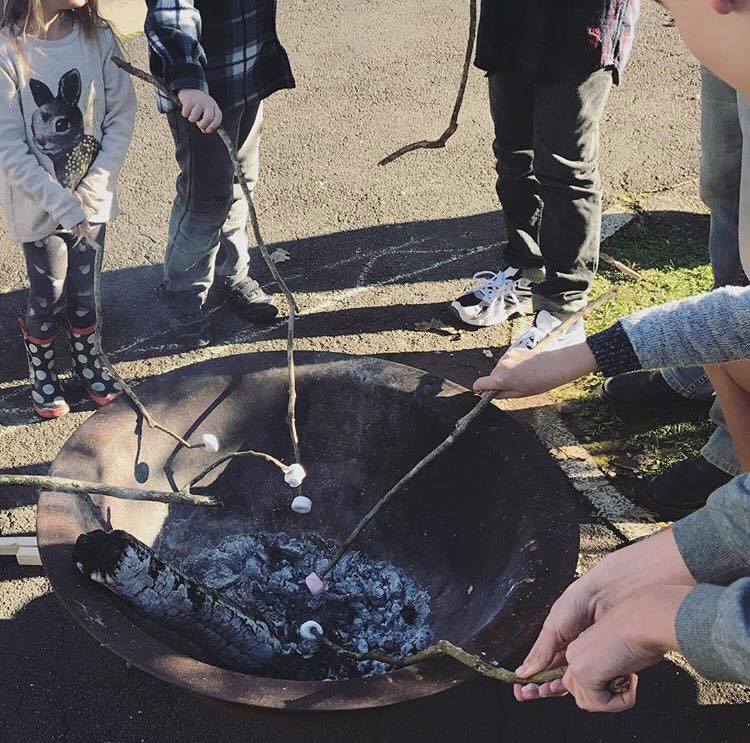 Let's do it all again next year! – St Aidan's Garage Sale Organising Committee.
St Aidan's Day, 27th August 2017
On Sunday, 27th August we celebrated the ministry of St. Aidan – our patron Saint. Traditionally this is a day when parishioners from all services join together for some fun and fellowship over a shared lunch. We met together after the 9:30am service and shared some delicious food, played a few games and donated goods to the City Mission! 🎁