Our Beginnings
St Aidan's, Remuera (built in 1905) has been an independent ministry unit since 1912 when a parochial district was formed from the mother parish of St Mark, Remuera. It was given parish status as early as 1915. St Mark's parish was much bigger than now as its boundaries then included the area now covered by the parishes of St Mark, St Aidan, St George Epsom, and St Chad, Meadowbank.
 Early history of St Mark's
The early history of St Mark's is of  interest. St Mark's was one of the St John's College chapelries. When Bishop Selwyn selected it, the site of St Mark's was very rural. Remuera Rd (known then as Tamaki Rd) rose up the hill from Newmarket, and because it was near the junction of the route from Auckland, to Papakura (on the Great South Rd) and Onehunga (on Manukau Rd) it was a very suitable place for the combined school and chapel. This land was given by George Graham.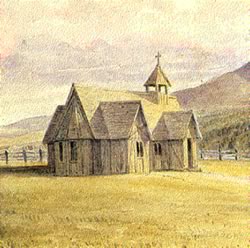 (Pictured: St Mark's, Remuera, watercolour by J. Kinder, 1862, from John Kinder Paintings and Photographs, p.57)
From 1847, students held classes and helped with Sunday worship, but in 1851 arrangements made for HW St Hill to board in the district, to become the permanent schoolmaster and to look after services at St Mark's and St Andrew's. He was ordained in 1853 and left in 1856 for Hawkes Bay. He was followed by the Revd GTB Kingdon (1856-59).By this stage, St Mark's had become a parochial district comprising Remuera, Hobson Bay, Epsom, Mt Eden and Ellerslie. In 1860, the original church was moved and became a hall and the new church (since added to many times) was opened.The Revd Dr John Kinder (head of the Church of England Grammar School, Parnell) agreed to undertake monthly duty at St Mark's and did so until November 1863. Responsibility for St Andrew's was transferred to Onehunga in 1860, but returned from 1872-83.In 1863, the Revd EH Heywood became the first incumbent. St Mark's was granted parish status on 19 October 1882.
This first church, prefabricated at St John's College, was made of wood with a thatched roof, and opened 30 May 1847. It was replaced in 1859 and shifted to the corner of Bassett Rd and Remuera Rd for use as parish hall and schoolroom. It was discovered to be borer-ridden and removed in 1925. Only the original door was sound and this was used for the new choir vestry
The Remuera area develops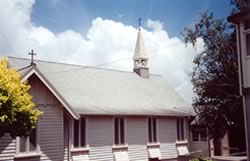 As the population of Auckland grew, the weekend houses in Remuera began to be replaced by large homes on large sections, giving it a semi-rural atmosphere.St Mark's had purchased a section in Victoria Ave for future development.Elsewhere in the parish a Mission Hall was built on Mr J Wilson's property in Shore Rd (now the site of St Kentigern's School) and used from 1859 as a chapel for Hobson Bay-Lower Remuera area. Services also began in 1886 in the Remuera Social Hall at the top of Orakei Road. However, the people of "Upper Remuera" made their own plans and services began in a hall in 1898. In 1903 a section was purchased on the corner of Remuera Rd and Ascot Ave. St Aidan's Church was dedicated on 29 June 1905.
A resident priest was appointed in 1906. Significant alterations were carried out in 1910, and the sanctuary dedicated on 21 December 1912, and the church consecrated on 2 September 1956.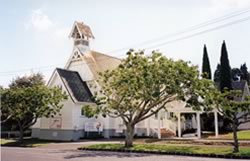 St George's, Epsom (1916).
Similar growth in that part of St Mark's Parish between Remuera and Epsom was such that services began in 1914, and led to the building of St George's, Epsom in 1916, the appointment of a resident priest, and its emergence as a parochial district.
St Chad's, Meadowbank, (1926).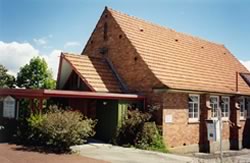 (Pictured: St Chad's, Meadowbank, 1929)
At the eastern end of St Aidan's Parish, the suburb of Meadowbank was developing and in 1929, St Chad's, Meadowbank was opened. A resident priest was appointed in 1953 and in 1960 it became a parochial district. It is now a strong parish with a distinctive ethos