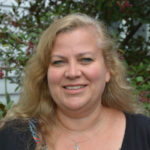 Anne's background:
Anne grew up and lived in a small Tasmanian town. Working as an Anglican Administrator for many years she felt God's leading to Aotearoa New Zealand and moved to Auckland in September 2018 to take up the position with St Aidan's temporarily. She enjoyed it so much she decided to stay.
Contact Anne for any administrative or financial help and any general enquiries. If she isn't in a position to help she will certainly point you in the right direction for any assistance you need.
Hobbies:
In her spare time, Anne enjoys taking photos, cooking, and exploring new places. She has also been working on a patchwork quilt, designed about NZ life post-Covid, since early 2020.
Favourite Bible Verse:
And I am convinced that nothing can ever separate us from God's love. Neither death nor life, neither angels nor demons, neither our fears for today nor our worries about tomorrow—not even the powers of hell can separate us from God's love. – Romans 8:38