There are several ways you can financially support St Aidan's:
Refurbishment Project:
To read more about our Gathering Area kitchen and Hall toilets refurbishment and how you might financially assist us with this project, click here. If you would like to go straight to our pledge form, click here.
Automatic Payment:
When an automatic transfer of money is made from your bank account to ours every week/month/quarter. You should be able to set this up via your internet or phone banking as a recurring transaction. You will also need to include your giving number* in the reference section. If you do not have a giving number, or can't remember what it is, our office will be able to help you with that too.
If you do not have internet or phone banking and prefer to deal with your bank personally we can give you a form containing our details for you to complete and send to your bank. Please contact the office for this form.
*If you give by automatic payment or internet banking, we are only able to keep a record if you have included a parish-issued reference number in your transaction details. Please contact the office to be given this reference number, which allows your giving to be as close to anonymous as possible. Individuals can claim a third of the donation back as a tax rebate, up to a maximum claim equal to their annual taxable income.
Internet Banking:
An electronic transfer is made through online banking. As stated above, we can issue you with a reference number to quote in your transaction which allows us to issue you with a receipt.
Envelope Giving:
If your giving varies each week, this would be the best option for you. Upon request, you are allocated a 'giving number' and a set of envelopes. You can then give anonymously by placing your envelope in the collection. If you give by envelope we will automatically keep a record of your giving so that at the end of the financial year we are able to send you a letter confirming the amount given. This can then be forwarded to your accountant or used in your personal tax return.
Cash Donations:
Putting cash in the offering during one of our services. 
Please contact our office if you require further information: office@staidans.co.nz or (09) 929 4670.
St Aidan's bank details:
06-0257-0052666-013
Reference: Your Allocated Giving Number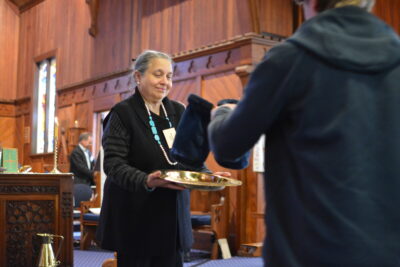 The donations we receive are crucial to the running of our parish. Your support is very much appreciated.
Future Giving:
Generations of St Aidan's parishioners have given so much to their church in so many ways. Without their faith and generosity of spirit, St Aidan's would not exist today. The St Aidan's Endowment Trust was established to help preserve their vision for the future.
The preservation of our vision into the future is in the hands of those who support the Church today and tomorrow, just as the services we provide are a legacy of previous generations.
To find out more information about our Endowment Trust, click here.