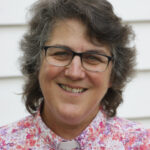 The Reverend Louise Anderson
Louise's background:
After significant involvement in lay ministry roles in the church, Louise turned her path from teaching towards ordained ministry. She is comfortable with a wide range of worship styles, having gained experience in a number of different Anglican churches. Louise joined the St Aidan's team in 2018, as Priest Associate and brought with her a particular gift of walking alongside people through their various chapters of life. She was appointed Vicar in 2021.