Library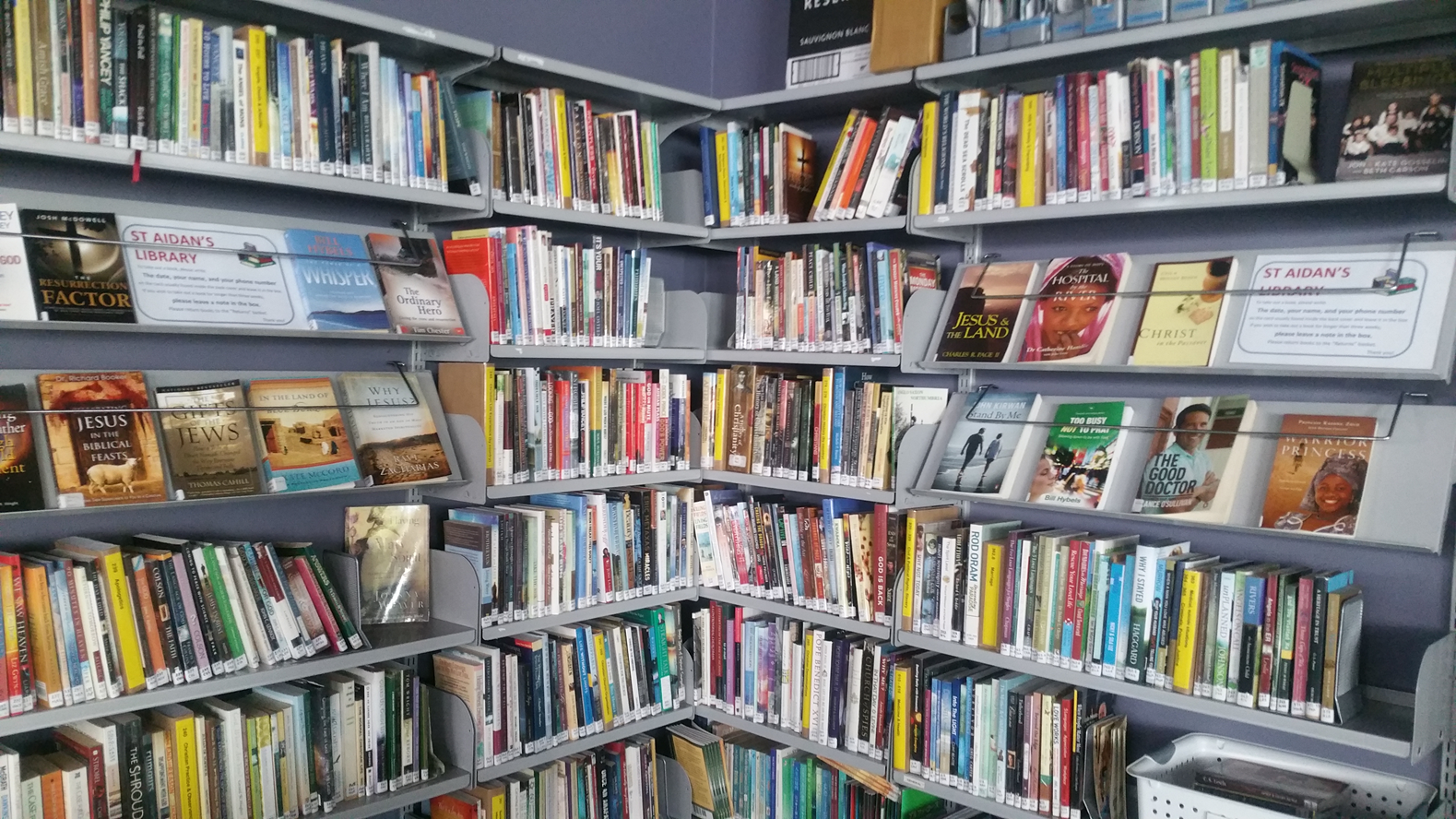 St Aidan's Parish Library
A prominent feature of Gathering Area at St Aidan's is the Parish Library. The library is an important Parish resource and covers a large number of topics relevant to the Christian life. Many of the books are not found in your local book shop and would otherwise be unavailable for most parishioners.
The library has a wide array of Christian books, from Biblical commentaries and theology texts to biographies, thematic texts and a growing children's library. Books can be borrowed on Sundays or any weekday that the office is open. The library also has a new DVD collection. Vestry donates a book each month to increase the collection, along with several parishioners who donate very generously. This ministry of St Aidan's is widely used, by visitors as well as ourselves. If you haven't already looked through the display, check it out! Recommendations of 'a good read' and donations of, or towards, new books are always welcome!
Each book has a card which should be filled in with the date, name and contact number. Books should be returned within three weeks. DVD's are available on Sundays only and are loaned for one week. There is a wire mesh tray to leave the cards in the library, next to the pencils.
Reviews:

"Miracles"
Eric Metaxas
Eric Metaxas says it is not a question of whether miracles happen, as the evidence that they do is overwhelming. However there is a need to understand what they are and why they happen and how we should understand them in our own lives. Eric approaches the topic of miracles by first looking at the miracle of creation around us and then the history of miracles within the Bible. The testimonies of miracles have come first hand from people he has met and has known. Eric Metaxas is a bestselling author whose biographies, children's books and works of popular apologetics have been translated into more than twenty languages. We have in our library his excellent biographies of Wilberforce and Bonhoeffer.
Margaret Pickmere
_____

"Heaven is for real"
Based on the New York Times bestselling book, 'Heaven is for Real' recounts the true story of a smalltown father, who must find the courage and conviction to share his son's extraordinary life changing experience with the world. Starring Greg Kinnear as Todd Burpo the real life father, whose son claims to have visited heaven during a neardeath experience. This film is well acted and suitable for all ages.
Margaret Pickmere
_____

"Storming Home"
Billy Gilvear
Billy Gilvear had severe relationship issues with his father. Born to Scottish parents, who served as missionaries in Africa, for a time life was difficult on their return to Scotland. Billy rebelled against his upbringing and joined the British army as soon as he was legally able at the age of 15 and a half, having persuaded his mother to give her consent. At first he flourished in the army life, but alcohol took a grip on his life which he felt unable to control. Billy was accepted for officer training and did well under the vigorous tests which they had to endure. Unresolved issues from his childhood came to haunt him and his life went completely "off the rails". He became embroiled in the seedy drug and pop culture in London and it was when he was at his lowest that he had an unexpected encounter with God. Now his life is completely changed and he is a minister and works with the Holy Trinity Brompton prison ministry. This is a brutally honest account of a life transformed by the grace of God. Margaret Pickmere, Parish Librarian
Margaret Pickmere
_____
'Heart of a Lioness'
Irene Gleeson
In 1991 Irene Gleeson, mother of four and grandmother of fifteen sold her home in Sydney, Australia and moved to Kitgum in war-torn northern Uganda, an area terrorised by rebel leader Joseph Kony and his guerrilla group, the Lord's Resistance Army. Over the next twenty-two years and against insurmountable odds, the woman known affectionately known as Mamma Irene rescued more than twenty thousand traumatised children, providing them with free education, food and medicine.
Today the staffs of The Irene Gleeson Foundation educate, medicate and feed thousands of children, helping them achieve their full potential. Irene Gleeson died on July 21 2013 after a courageous battle with cancer.
Margaret Pickmere
_____

'Seeking Allah, Finding Jesus'
Nabeel Qureshi
Nabeel Qureshi describes his dramatic journey from Islam to Christianity, complete with friendships, investigations and supernatural dreams along the way.
Providing an intimate window into a loving Muslim home, Qureshi shares how he developed a passion for Islam before discovering, almost against his will, evidence that Jesus rose from the dead and claimed to be God. Unable to deny the arguments but not wanting to deny his family, Qureshi struggled with an inner turmoil that will challenge Christians, Muslims and all those who are interested in the world's great religions.Engaging and thought provoking Nabeel tells a powerful story of the clash between Islam and Christianity in one man's heart and of the peace he eventually found in Jesus.
Nabeel holds an MD from Eastern Virginia Medical School, an MA in Christian apologetics from Biola University and an MA in religion from Duke University.
Margaret Pickmere
_____
"Love is a Verb"
Gary Chapman
Gary Chapman, best selling author of The Five Love Languages, shares forty uplifting true stories from everyday people like Doris, who chose to love her husband when what she really wanted to do was to run away; Loretta, whose family was mended by love in action; Faith, who learned how to love a mother who had become a stranger; Laquita, who finally fell in love with her husband after forty years and Jacquelyn, who found the courage to love someone who seemed truly unlovable.
This is because love isn't just a feeling, love is a choice and love is something we all need to do. Love is a verb.
Margaret Pickmere
_____
"The Heavens Declare"
Jo D Brennan
A sunset convinces art student Jo that God must exist and so begins her journey with the Master Artist. A true story of a life lived following God's leading. After art school Jo trained at the Prince Alfred Hospital in Sydney and recounts some of her time there and how she felt God calling her to missionary work. This would lead her to work in Africa, Sri Lanka and the Philippines, before finally retiring in Australia her home country.
This is a very honest account of her walk with God sharing both her joys and sorrows as a missionary. It is a delight to read.
Margaret Pickmere