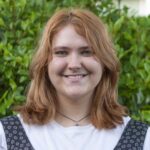 Izzi Hoskyn
Children's Ministry Coordinator
Izzi's background:
Isabelle (Izzi) joined the St Aidan's community in 2018 after moving to New Zealand from Washington D.C
. 
Since joining the church, she has become involved in the Young Adults Group and took on the role of Children's Ministry Coordinator in May of 2021.
Izzi works at the Director's and Editor's Guild of Aotearoa New Zealand as the Membership and Events Coordinator. Additionally, she works freelance in the local screen and theatre industries and is passionate about storytelling that explores the magic in the everyday.
Favourite Saint:
Hobbies:
In her free time, Izzi enjoys creating, exploring, and learning. She dabbles in a plethora of crafts (but favours cross stitching), loves a good walk in nature, and cherishes when she has time to read or listen to podcasts.